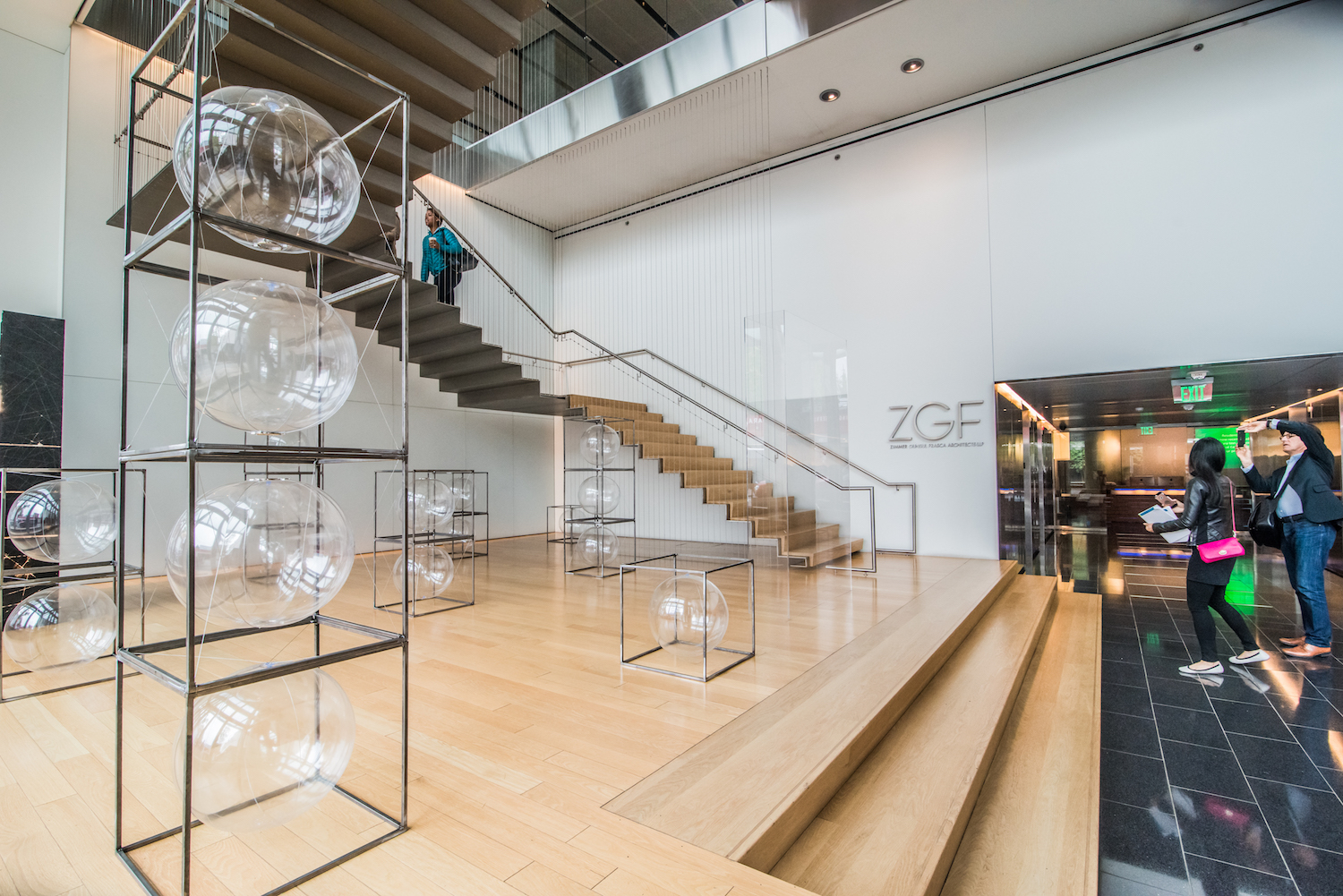 The buildings designed by Zimmer Gunsul Frasca (ZGF) Architects, the eighth largest architecture firm in the United States, make a strong first impression. To create these unique environments, ZGF's teams of architects and project managers rely on wireless networking to access design software and for web-based collaboration.
ZGF used a legacy wireless solution for many years. According to systems administrator Ron Pike, the small IT team found it unreliable and difficult to manage remotely. When ZGF prepared to move its headquarters to a new award-winning office in Portland, the firm wanted to deploy a superior wireless network solution for the new space. Ideally, this solution would also be deployed in the branch offices in L.A., Seattle, New York, and Washington D.C., and everything would be centrally managed.
Long before the headquarters moved, ZGF had used Meraki to provide a separate, secure guest network for the many contractors, design firm representatives, and vendors who visited the firm. In looking to replace the legacy system, ZGF decided to test Meraki's enterprise products. The firm installed two Meraki 802.11n access points (APs) in the Seattle office.
"We found that Meraki was easy to configure and to maintain, and we liked the enterprise features," Pike said. Based on the success in Seattle, Pike recommended Meraki as the best choice for a cost-effective, centrally-managed wireless solution for all the offices.
"We were comfortable choosing Meraki over other products," Pike said. "We wanted 802.11n speeds, good management tools, and industry standard security. We got all of these features." In addition, Pike said that with Meraki, ZGF was able to deploy WLAN at each branch office for the cost of a new PC. "The price can't be beat," he said.
The elegant industrial design of Meraki's APs also mattered to design-conscious ZGF. "I'd have to say that if the access points looked clunky, it would have made us think," Pike acknowledged. "But they look very clean." ZGF deployed seventeen Meraki APs firm wide—one to two single-radio MR11s in each branch office and nine dual-radio MR14s in the Portland headquarters, where the demand for wireless was higher. "The installation was very easy," Pike said.
Pike said the employees and guest users were thrilled with the speed and robustness of the new wireless network. "We told them that the old APs which had worked intermittently had been replaced, and the new system was seamless," Pike explained. Users were able to access the network easily and reliably, and the speed of file transfers improved dramatically. "We've heard good comment after good comment," Pike said.
From an administration perspective, Pike praised the Meraki cloud-based dashboard for enabling easy centralized management of multiple sites without requiring tunnels or VPNs. We wanted 802.11n speeds, good management tools, and industry standard security. We got all of these features.Ron Pike, Systems Administrator
"You can apply changes in a global manner with Meraki," he said. "It's not time consuming. One network administrator can manage five networks across the country."
Pike said he appreciates the detailed wireless authentication and usage information he gets through the cloud-based dashboard. Meanwhile, he said, "Meraki continues to offer beta tests for new features, as well as asking for suggestions. I've submitted items for improvement, and I've gotten emails back saying 'we've implemented this change based on your suggestion.' That's pretty direct customer feedback."
The best thing about deploying Meraki, Pike said, is the network's reliability. "I haven't noticed any outages at all," he said. "It's a very robust service."